Give Us A Call Today! +832-720-7978
"Sell My House Fast in Texas"
We're Here to Help, Even if We Don't Buy Your House!
No Fees. No Commissions. Put More Cash In Your Pocket.
SELLING MY HOUSE "AS IS" IN TEXAS
It's simple to sell your house in Texas with our quick and simple process!
Take a look at some of these fantastic benefits:
When we buy houses in Texas, there are no commissions, closing costs, or hidden fees.
When we buy houses in Texas, we don't waste time – we're typically done in 14 days or less.
There is no pressure to sell – we will assist you even if you do not sell your Texas property to us.
You can sell your home as-is, with no repairs required.
No cleaning or property showings when we buy houses in Texas.
When you sell your house in Texas to us, there are no appraisals or inspections required because we have the funds to buy right now.
"Sell My House Fast in Texas"
There has never been a simpler way to sell a home in Texas! Our business is operated, with a mission to assist the community. We are:
Now is the Time to Sell Your Texas House!
With so many people trying to sell their homes, a standard listing can take months to sell. TX Real Buyers is here to help you sell your home quickly, without any costs, fees, or waiting. Fees, commissions, and repairs can all eat into your profits. Give us a call to see what we can do for you before you commit to an agent or a listing agreement. You might be surprised at how the numbers can add up in your situation! +832-720-7978
You shouldn't have to worry about closing costs, market fluctuations, or buyer delays when you need to sell your home quickly. We provide the best real estate solutions to help you quickly get rid of burdensome houses.
We take pride in providing solutions to those who are faced with unforeseen circumstances at TX Real Buyers. Regardless of the situation or the condition of the property, we'll be here to help you sell your house fast in Texas. We work quickly so you don't have to worry about whatever was keeping you up at night wondering, "How can I sell my house fast?" " or "Can you tell me where I can find Texas house buyers?" "Our fair cash offer eliminates the need for bank financing, allowing you to walk away with the most money!
TX Real Buyers is a Texas-based real estate solutions company. We specialize in assisting homeowners in finding solutions to their problems, particularly in selling their homes. We've been working together for a long time, which has allowed us to learn from each other's and our clients' experiences.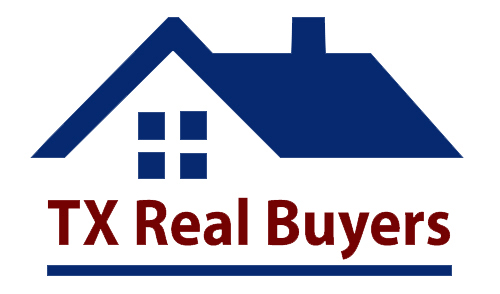 What are the Benefits of Selling Your Texas House Directly to TX Real Buyers?
TX Real Buyers makes it easy for homeowners in Texas to sell their homes in a fair and timely manner. There are no commissions, closing costs, or listing fees associated with this transaction. We will provide you with a quick and hassle-free closing process that is free of charge and headaches. You won't have to worry about spending money on repairs and renovations because we buy as-is. Check out our side-by-side comparison to see how much a direct sale can save you!
Sell Your House to A List Properties
We'll make you a fair cash offer so you can sell your house quickly and easily.
Competitive Cash Offer Right Away
We Can Close In A Matter Of Days
No commissions or hidden costs
List Your House With an Agent
Requires your time, money, and effort involved with a standard listing.
It can take months to find the right buyer
You'll need to keep the house clean for showings
The escrow process can add months to the process
Expect to pay about 2% in closing costs
Commissions will run you another 6% or so
You may need to make repairs in order to sell
Helping People Is Our Passion
Selling your home is simple and fair with our process. We will work with you to find the best possible solution, regardless of the condition of the house or the reason for your need to sell. Here's a breakdown of how we work:
Tell us about your property, and we'll start the offer process right away.
You will receive an offer to purchase your home as-is right away. There will be no commissions or closing costs.
You can sell your home on your own terms. We can close in as little as 14 days.
When It Comes To Selling Your Home Quickly, We Provide A Variety Of Benefits
What advantages does working with TX Real Buyers have over working with other buyers and agents? To begin, we are a real estate solutions and investment firm that specializes in assisting homeowners in quickly receiving a fair offer on their home. Our team of experts will pay close attention to what you want in a sale and work with you to achieve your objectives.
Contact us as soon as you're ready to sell your house fast for cash in Texas, and we'll get you an offer right away. When you work with companies that buy houses for cash in Texas like us, you can sell your house in a matter of days and have your cash in hand almost immediately!
When we buy houses for cash in Texas, you won't have to wait for bank approval, mortgage approval, or a closing window. Fill out the form below, and we'll come out to inspect the property before making you a fair cash offer. Our process is quick and easy, and we buy houses in Texas for cash.
The issue with most Texas real estate agents or cash home buyers is the additional commissions or fees they charge for selling your home in Texas. Typically, commissions range from 6% to 8%. These expenses will eat into your profit margins and drive down the overall value of your property.
This does not include marketing expenses, repairs, or ongoing ownership costs. According to statistics, using a realtor to sell your Texas home will result in a 90-day delay in closing, which will cost you money by the day.
We want to make it as easy as possible for you to sell your Texas home. There's no need to hurry if you aren't ready to move yet; we'll close on your timeline.
Whether you've inherited a property, need to sell to avoid foreclosure, or your house needs repairs that you can't afford, our team of Texas cash house buyers can help!
We always work around your schedule when we buy houses for cash in Texas, making the selling process as simple as possible. As a result, you won't have to search for "buy my house for cash in Texas" any longer.
We Buy Houses in These Cities Listed Below:
Berks County, Pennsylvania
Hampton Roads/Virginia Beach Virginia
Fayetteville, North Carolina
Asheville, North Carolina
Greenville South Carolina
Pasco/Clay County, Florida
Onslow County, North Carolina
2140 E Southlake Blvd L-302
Copyright © 2022 TX Real Buyers